Swansboro's Bicentennial Park may not be the grandest of most extensive park along the Crystal Coast's Inner Banks, but it is certainly one of its most scenic. Surrounded by the deep waters of the White Oak River and Swansboro Harbor, patrons to this park will enjoy endless water views, great fishing and a scenic boardwalk to take in the scene.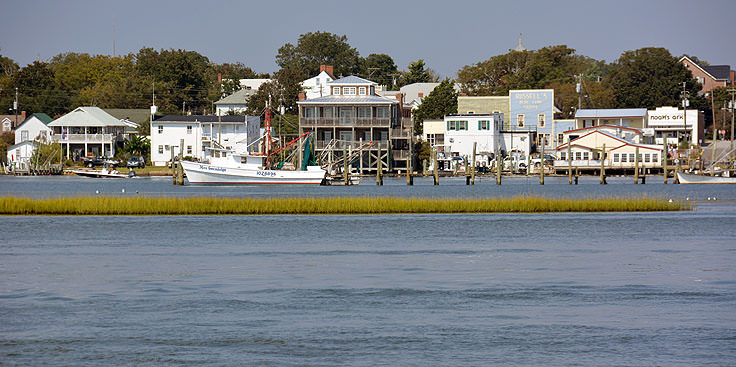 The park has a unique location that's on the very edge of Downtown Swansboro, but adjacent to the main road, aka Highway 24, which winds through this easternmost section of the mainland. It's also right next to the White Oak River Bridge, which extends over the river, so visitors will essentially find themselves surrounded by water on nearly all sides. A small parking area, close to the bridge's entrance, provides spaces for 24 vehicles or so, and the small park is bordered by a wooden walkway which makes a semi-circle around the perimeter.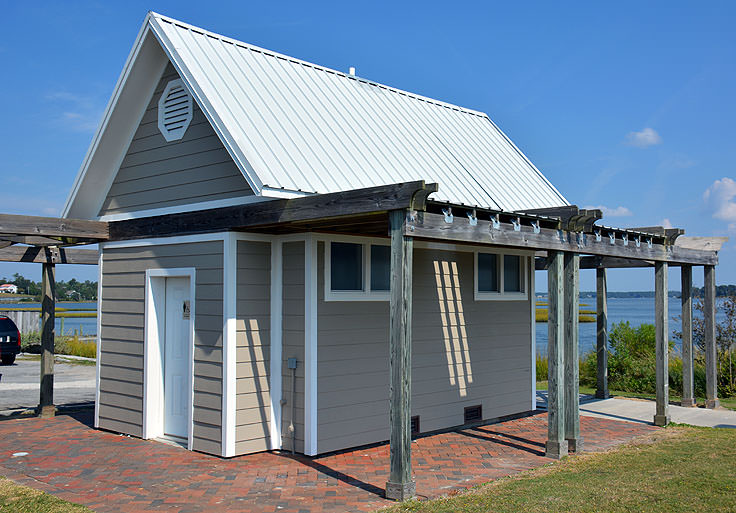 This waterfront locale makes Bicentennial Park a prime fishing spot for locals and visitors in-the-know, and the park even features a fishing dock to accommodate multiple anglers at once. Fresh, brackish, and even a handful of saltwater species can be found here, including trout, spot, sunfish and mullets, in addition to decent crabbing in warm weather conditions.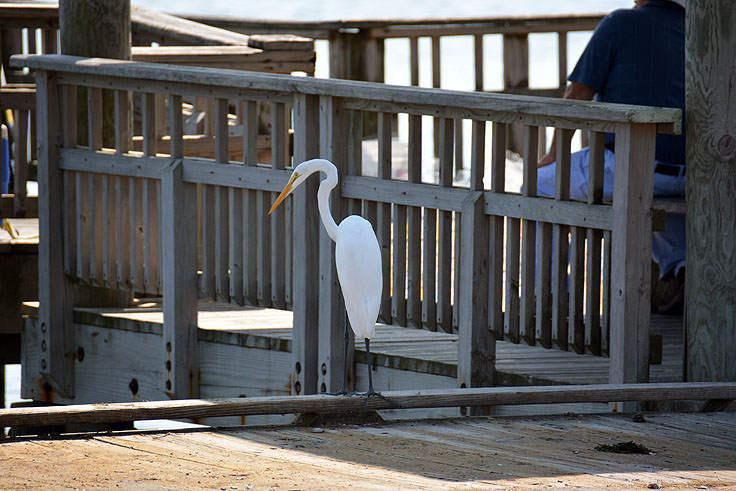 The park also features a picnic area that's free to the public, brick walkways leading through the heart of the park, and restrooms for extended stays or a quick break from the highway. There's also a variety of historical information on display here, on panels located along the entrance of the park. The park is lighted for evening fishing adventures, and though small, also serves as a lovely resting spot for travelers in need of a good sunset or just a fantastic view, with benches overlooking the water.
The most distinctive aspect of the park, however, which can be seen from vehicles passing over the bridge, is the park's life-sized signature statue of Captain Otway Burns, who stands looking over the Swansboro Harbor. Captain Burns is a local legend, and was a Swansboro shipbuilder who constructed the first steamboat in North Carolina, called the Prometheus. A popular attraction for photo ops, the Burns statue is easily the most impressive aspect of the park, aside from the fantastic views and equally great fishing, of course.
While Swansboro certainly has more than its fair share of scenic local parks, including Ward's Park where patrons can watch the Intracoastal Waterway travelers pass by, andSwansboro's Municipal Park, an 18-acre playground that includes a skating park and a new recreation center, many locals attest that Bicentennial Park is the "must-see" spot for travelers passing through town. Easy to access, with waterfront and bridge views that are worthy of admiration, this small park is a favorite local landmark among residents and long-time visitors alike. Take a quick stop on your road trip along Highway 24, and enjoy a break and a breath of fresh salt air, while discovering why this town is so proud of its on-the-water heritage.
Is this your business? Update your listing by messaging us