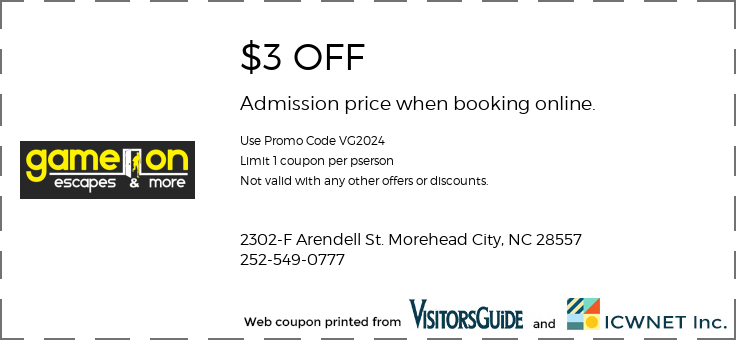 print
Game on Escape Rooms offers physical adventure games in which players solve a series of puzzles and riddles using clues, hints and strategy to complete the objectives at hand. These experiences are great for ages 10 and up. Two different escape scenarios are currently available, with more to come soon. Rooms host two to eight players. Reservations are required and can be booked online.
The Collector - NEW ROOM
Do you like collecting things? Sure you do, everyone collects things. That's why you are part of the Nothing's Useless Auction House, where we believe that one person's trash is another person's treasure! Unfortunately, several winners of some of our auctions have had their items stolen. As part of the stolen antiquities task force, we believe we have found the culprit. It's our duty to investigate and retrieve some lost items, most notable are supposedly some of Blackbeard's sailing and treasure maps.
Please note that this game does involve a fair amount of the use of color. If you are colorblind and wish to play, we recommend bringing a friend that isn't to enjoy the game to the fullest capability. This is a reskinned version of Blind Eye in Cary with a lighter story that is family friendly. Book Now!

Revolutionary Betrayal
Who would have thought that a founding member of the Sons of Liberty, the group responsible for the Boston Tea Party, which ultimately led to the Revolutionary War, would betray his own?
Dig through the home of William Arnold, a descendant of the traitor, to recover the genuine Declaration of Independence as we've recently discovered the one in Washington DC is a fake! Make sure no one sees you! Book Now!

Dr. Love
Dr. Justin Love is a world renowned researcher specializing in prolonging heart function, a field he began to explore after losing his wife in a freak accident 7 years ago. He is about to release the culmination of his life research, The Essence of Love, which is a natural product intended to assist heart functions and amplify the heart's ability to love someone at a deeper level. It is his belief that having this connection will prolong one's natural life. No animals were harmed in the creation or testing of Essence.
You are part of a focus group that will be getting a behind the scenes look into his research, an opportunity to test Essence, and meet with the doctor himself.
Grinched
CAN YOUR FAMILY SAVE CHRISTMAS?
Oh No! You've been Grinched! It's the night before Christmas and the Grinch has broken into your home and sabotaged Christmas. Can you work together to save your Christmas before Santa arrives?
MORE ABOUT GRINCHED:
Kid/Family friendly – Suggested age of 5 to 12
Encounters with Elves & SNOW are a HIGH probability
Please note that this game does involve the use of Wheat Flour & Dairy Products.

Game How SHOWDOWN
We'd liked to welcome you to Cary's newest attraction, the Game Show SHOWDOWN.
What is it you ask? Why it's just the most fun new activity in the Triangle. Bring your family, friends and coworkers to battle to bask in the glory of our SHOWDOWN trophy, or will you go home wiping those tears away. Lots of fun twists on some of the most popular TV game shows ranging from Jeopardy, Family Feud and Minute to Win It challenges. There will be laughter, cheering, and jeering! Book Now!